An Interview with Jewelry Crafter Creative – Wyrrd Rune
An Interview with Jewelry Crafter Creative – Wyrrd Rune
What is Wyrrd Rune and when was it founded? What was the purpose of creating Wyrrd Rune in the first place?
Wyrrd Rune was first founded in 2005 as a crafter collaborator under the joint establishment – Innocent Rose Productions. Started off as a handcrafted jewelry production specializing in Gothic and Victorian inspired jewelry and created out of necessity to supplement my pocket money during my polytechnic studies, Wyrrd Rune eventually evolved into a full-time all-rounder designer jewelry studio experimenting with myriad themes, skills and techniques.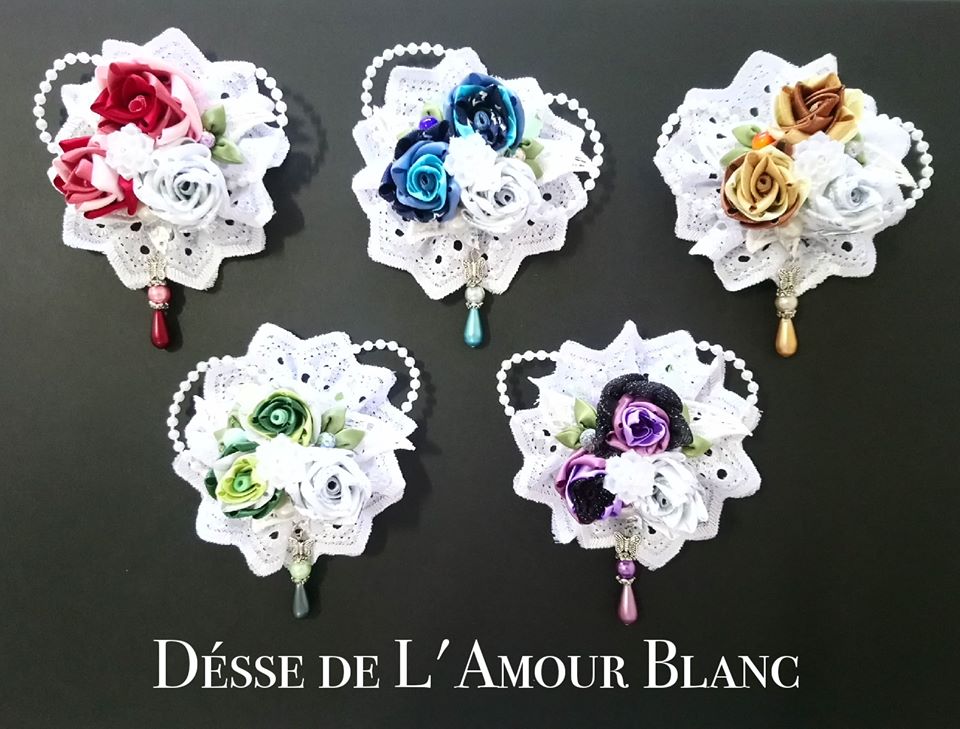 What inspires you to create kanzashi accessories with Japanese Kimono cloth? 
As a Japanese culture enthusiast and a crafter who's forever curious and hungry for knowledge, I got to know of kanzashi and tsumamizaiku techniques from Japanese kanzashi crafters I follow on Instagram, as well as Beads Friend – a crafting magazine I buy on a regular basis.
You have created handcrafted themed accessories for popular PuraComixMag comic titles like "A Deal With Lucifer" and "Dream Walker". What were your design and crafting processes like for the above-mentioned themed accessories and how different is your process when crafting your own ideas? Also, tell us more on what are the most important tools and necessary mindset to being a crafter? 
For "A Deal With Lucifer" and "Dream Walker" themed accessories, my focus is on the signature colours, accessories, symbols, character traits and personalities of the comic characters of these two titles. For my own jewelry collections, I have a little more flexibility to set my own themes, colours, elements, as well as the medium, form, skills and techniques to create the jewelry in. 
There's no definitive standard to crafting tools as it's dependent on the individual's skills and techniques and I believe that as a crafter, as long as you really love to craft, you can go a long way towards leveling up your skills, techniques and creativity. 
How has your interest in comics influenced your crafting style? 
There's a lot of lessons, philosophies, ideas and concepts to be learned in comics, which contributes to my design thought process when crafting my jewelries.
Besides accessories and Japanese lucky charms (also known as "omamoris"), do you have the intention to apply your skills and techniques on other items like handmade bags, belts etc? 
I've applied and combined the skills and techniques I've picked up through jewelry-crafting on brooches and accessories combined with tote bags and Fukubukuro ("Japanese lucky bags") I've sewed myself. 
How did you first come to know of cosplay? 
My friends from JC cosplayed at a convention at Suntec in 2002 and I was invited along. Subsequently, my love for the Sakura Wars series started me on my first cosplay as Ogami Ichiro (Captain of the Imperial Flower Assault Troupe) and Kitaoji Hanabi (from the Sakura Wars 3 Dreamcast game).
Have you ever thought of giving up as a crafter? 
Yes, I had because it's not an easy feat convincing potential customers to accept my versatile jewelry crafting style and I do get a lot of disapproval first-hand when boothing at local craft markets. Not to mention, when I first started crafting, crafting was not seen as a lucrative and sustainable profession locally. 
However, after holding jobs in corporate, retail and education, I eventually settled on crafting full-time because I wanted to spend my time doing something meaningful and creating what I love. 

Do you have other plans in mind for your jewelry crafting workshops, such as expanding your number of students per class or conducting different types of jewelry crafting modules? 
Also, what's your greatest dream as a crafter? 
Currently, I don't intend to expand beyond 6 students per class as I intend to make my workshop experience a personalized one for everyone. I conducted workshops in the first place to let potential customers have a hands-on experience of my jewelry crafting process. 
I've also already come up with modules beyond jewelry-crafting like my Hagoita workshop conducted earlier this year. I have no fixed plans on my modules as I create them spontaneously. 
As for my greatest dream, I aim to have my own studio, simple as that.
To know more about Wyrrd Rune, please visit the URLs below.
FB: https://www.facebook.com/wyrrdrune
IG: https://www.instagram.com/wyrrdrune/