Brian Lee – Novelist of Singapore's First Chinese Adventure Novel Series

Why did you decide to go into novel-writing?
Since my childhood, I had plenty of quirky ideas and thoughts, and I loved to jog them down. When I started reading novels and manga, I began to piece them together to form more systematic stories as my visions were clearer.
I always wanted to have them published but I didn't have the chance to do so. Until 1 day, I chanced upon a channel to publicize those ideas, so I sent in my novel stories for publishing. Novel writing is a very interesting thing to do as it is a journey of pursuing one's dream, a resistance to reality; it is also one's experiences which are reflections of one's life.
Why did you choose to write a Chinese novel over an English one in Singapore? And why a series?
More local Chinese favor the English language rather than Chinese, which is attributed to the rapid growth of the country. Singapore gained international recognition within a few decades, which on the downside, resulted in Chinese language being neglected.
The majority of our local Chinese disliked their mother tongue mainly because of reduced exposure, thus decreasing the interest in reading Chinese books. That led to decreasing stocks in bookstores as bookstores will only stock books that sell. Lesser choices in Chinese books resulted in lower exposure, thus creating a vicious cycle.
In order to rectify this situation, more Chinese language-based reading materials must first appear on the market. Applying the same theory for a movie director, he is unable to determine the number of audiences before he starts shooting a movie. He has to produce one before he can move on to the next step.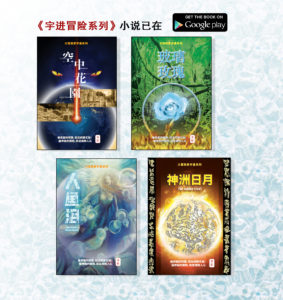 Publishing my novel series is my initiative to break the current vicious cycle. It is easier for the readers to remember the characters and stories in this way. There is not enough Chinese popular fiction in Singapore, I hope this can be an entry point to raise interest in the Chinese language for the younger generations.
What results were you expecting when you started writing for your current novel series?
To be frank, it was kind of pressurizing when I started writing. The reason was that the standard of existing Chinese literary works written by the locals is already set at a very high bar. A newcomer like myself trying to gain exposure and set myself apart from the norm will definitely be no easy feat.
However, there are stark differences between popular fiction and pure literature – like "Pride and Prejudice" and "X-men", as we cannot compare the two of them owing to their difference in nature. "The Adventures of Yu Jin" is the first local Chinese popular fiction series; I hope it can become a new beacon for Singapore's Chinese pop-culture.
Do you write novels of other genres besides the adventure theme?
Yes, I do. In fact, I'm writing a few different genres, namely Wuxia (Martial Arts), Sci-Fi and Fantasy, and I have some completed manuscripts on hand already.
Actually, I tend to add components of other genres into my novels. For example, although the focus of "The Adventures of Yu Jin" is on adventure, I have included elements of martial arts, Sci-Fi, and fantasy in it.
The first story I've ever written was in the Sci-Fi genre, where coincidentally, the first story I sent for publishing was also designated as a story based on Sci-Fi. I will definitely showcase my other stories if I have the opportunity to do so.
Which author(s) will you consider as your idol?
My mother is a fan of Ni Kuang(creator of the famed Chinese Sci-Fi novel series – The Adventures of Wesley) and my father is a fan of Louis Cha (creator of Return of the Condor Heroes), so I grew to love their works under my parents' influences.
Besides these works, I was deeply influenced by Huang Yi (creator of A Step Into The Past) and Liang Yu Sheng (creator of Seven Swordsmen). All 4 of them are writers of Wuxia novels, which is where my love of martial arts stemmed from. Both Ni Kuang and Huang Yi wrote the Sci-Fi genre as well, which inspired me greatly. Of course, there were many other writers that I would definitely want to learn from, like A.G.Riddle, J.K.Rowling, Stephen King and Dan Brown etc.
What are your thoughts on the current pandemic?
I think it is a test for mankind – the good, the bad, the ugly, realistic, and the hypocritical individuals all surfaced because of this pandemic.
Someone once said, "People change only when it comes to an extreme", this virus has forced us to evolve. Who could have imagined that the day came where we face in real life, a scenario that is only commonly seen in books or on the silver screen?
We might have once scoffed at the idea of digitalizing everything in our daily lives, but now, the situation has forced us to literally, get to know technology better and embrace it as part of us.
Perhaps it'll serve as a good opportunity for us to delve deeper into ourselves, gain more knowledge from books and hence elevate and strengthen our consciousness on a spiritual level.
Final question, is there anything you will like to elaborate on the success of your novel series? 
I believe at the current moment, I have yet to achieve my desired results yet. There are many stellar and talented Chinese novel writers in Singapore, but the market definitely still need time to mature and shape into what I envisioned it to be.
As I've mentioned above, Chinese popular culture in Singapore is yet to be designed to receive proper and relevant support, which is the main cause of concern and deterrence to many writer enthusiasts looking to join as professional novelists.
Alluding it to oil mining, either you put 100% faith in and drill all the way to extract the lucrative petroleum, or give up hope when your drill bit was in fact just mere inches from the coveted oil.
Perhaps what I would consider as my best achievement so far was that I had managed to soldier through my own personal oil mining process. 
Nonetheless, there are still a lot of things waiting to be done after. Hence, I will do my best to influence more people to fall in love with the Chinese language and novels.
To know more about Brian's Lee, please click the link below.
https://puracomixmag.com/zh/2019-11-06-novel-release/

2002 Graduated in Temasek Polytechnic

2010 Finalist in the top 20 of the "Xianwang Science Fiction Awards".

2012 Published《天劫》is "The Calamity" / The Adventures Of Yu Jin "series book 1 Paradeisos(空中花园)

2014 Published  The Adventures Of Yu Jin "series book 2 Rosa Caelestis(玻璃玫瑰)

2019 Published The Adventures Of Yu Jin "series book 3 Mermaid's Resentment(人鱼泪)

2019 Published The Adventures Of Yu Jin "series book 4 The Golden Crow(神州日月)
To purchase his physical books, please click the link below
http://tczstudio.com/zh/product-category/15-chinese-novels/
"The Adventures of Yu Jin" (大冒险家ー宇进系列) Chinese novel series is also now available on Google E-books! Click on the link below to purchase!
https://play.google.com/store/books/author?id=%E6%9D%8E%E5%BD%B1